ÖTZTAL-INNSIDE-SUMMER-CARD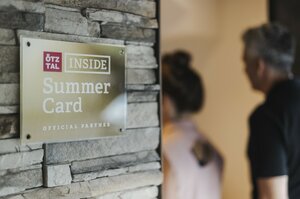 Your premium upgrade for the summer-holiday
You plan, you pack, you arrive and you are happy already. Your Ötztal holiday is packed with great benefits: more adventures, more insights, more discounts. All this and much more is already included in your guest card. The Ötztal Inside Card is available in digital form coupled with the convenient Ötztal Inside Guide which accompanies you permanently on your smartphone during your stay. As a seasonal premium upgrade in summer, the Ötztal Inside Summer Card is available and includes, in addition to basic services, the entire range of infrastructures within the valley.
INKLUSIVLEISTUNGEN & VORTEILE MIT DER ÖTZTAL SUMMER INSIDE CARD:
Summer-mountain gondolas & lifts in the Ötztal
AREA47
AUQA-DOME Tyrolean Thermal of Längenfeld
Bicycle- & MTB rental in the Ötztal
recreational facilites, play & fun
swimming lakes, in- & outdoor pools
Public bus transport in the Ötztal
Ötztaler museums
Bonuspartner & special offers
We Partner und official sales-point for the Ötztal-INNSIDE-Summer-Card.
Tickets can be purchased directly from us for different periods of validity or are included when you book one of our packages.